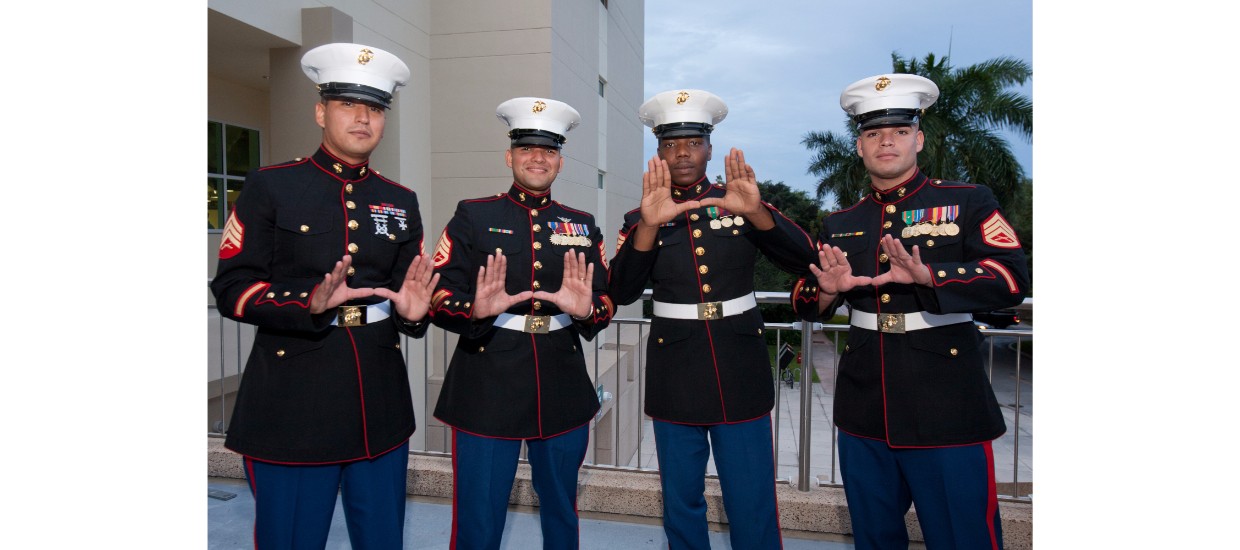 Frequently Asked Questions
What can a veteran student do to find out how much time they have remaining in their program?

For Veteran Affairs (VA) benefits inquiries, students can access their eBenefits account at www.ebenefits.va.gov or call the VA at 1-888-GIBILL (1-888-442-4551).

How can veterans' students find out the status of the tuition and mandatory fees payments made by VA?

For Veteran Affairs benefits inquiries, students can access their eBenefits account at ebenefits.va.gov or call the VA at 1-888-GIBILL (1-888-442-4551). If the payment was processed, the student may check with Office of Student Accounts at 305 284-6430 or www.osas@miami.edu to find out if their funds have been received by UM.

Can a military/veteran student drop a class after the drop date?

The criteria are the same as for the rest of the student body. However, if a student gets an involuntary call to active duty (not training) resulting in the student dropping a class after the drop date, please follow the University's procedures for military withdrawal found at the veteran's link at www.miami.edu/registrar. If a military/veteran student makes any changes to their class schedules before or after the add/drop deadline the student will need to notify the Veteran Affairs Office if the student is claiming VA educational benefits.

How can a military/veteran student pass their benefits to their spouse/children?

A service-member can transfer his/her post 9/11 benefits as long as the service member is still serving on active-duty. The process must start with the service-member requesting an (eligibility) approval from the Department of Defense (DoD). Once the spouse/child is approved, the family member must apply to receive GI Bill benefits with the VA through the Veterans Online Application (VONAPP) website. Please use form 22-1990E for Chapter 33 (Post 911 GI Bill) or form 22-5490 for Chapter 35.

Do I need to request benefits every semester?

Yes, the veteran, dependent, or spouse needs to reply to the Veteran's office email requesting the use of your benefit. Benefits may be delayed if an acknowledgement is not received.

Do you have a student organization?

Yes, the Veteran Students Organization is located in the Whitten building on the main campus. Please follow them on Facebook at VSOUMiami. (Their Link)

What does the Post 911 GI Bill pay for?

Tuition and mandatory fees based on the Veteran's percent of eligibility.

Will the Post 911 GI Bill pay for study abroad.
Will the Post 911 GI bill allow for concurrent enrollment?

The GI Bill will allow you to attend more than one college at a time, as long as the classes at both institutions count towards your degree, and the school granting your degree accepts the classes at the second school as part of your degree requirements. If you would like to take classes at another institution to transfer back to UM contact the UM Veterans' Affairs Office.

How do I avoid overpayment?

An overpayment of benefits will be charged for those courses in which nonpunitive grades (NG, W) are received unless the student presents evidence of acceptable mitigating circumstances. No benefits will be paid for courses that do not meet school or college requirements for graduation. At the time of registration, please be sure your selected courses meet the requirements toward your specific degree.

Does UM accept GI Bill benefits? If so, which ones?

Yes, UM's Veterans' Affairs (V.A.) Office assists veterans and dependents of veterans who are entitled to V.A. educational benefits under Chapter 1606, 30, 31, 33, or Chapter 35. The University of Miami participates in the Yellow Ribbon Program for qualified Chapter 33 recipients. Anyone needing information on Veterans' Benefits is advised to contact the Veterans' Affairs office in the Office of the University Registrar or e-mail veterans@miami.edu

Does UM accept the Post-9/11 G.I. Bill?

Yes, UM welcomes applications from veterans and dependents who are eligible for education benefits offered by the Department of Veterans Affairs, including the Post-9/11 G.I. Bill and the Yellow Ribbon Program.

How do I apply for VA benefits?

You may qualify for more than one type of VA education benefit. Because applying for a certain education benefit could affect your eligibility for others, you should consider your options before selecting a benefit program. The VA provides resources to help you choose the best benefits for you and your family. Please go to ebenefits.va.gov or call the VA Educational Student Hotline at 1-888-442-4551.

I am a dependent of a veteran. What steps should I follow?

You should first have your parent/guardian contact the VA Educational Hotline at 1-888-442-4551 to determine what you may qualify for. Then contact your VA School Certifying Official at veterans@miami.edu.